While visiting at the the Sofitel in Redwood City today, Goldie was happy to be surrounded by nature
and the possibility of food. She did get some calamari bits thrown her way.
The gorgeous gates at the entry as well as this grand and fabulous Chihuly light, made me reflect on the importance of sweeping your guests in, while considering the elements of style from the outside in.
What do your front door details say about you?
Found these beauties at Handles Accesories these are
Black Granite Lydia
where they have quite a collection to suit.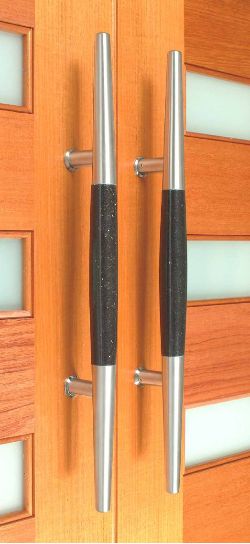 Not just modern metal but also some Dragon Handles - check out those choices.
Shapes and surfaces to make a shopper smile.
And a proud house owner always matches her mailbox to her handles.
Found this one Blomus Signo locking letter box at
All Modern
Whatever your home style is make sure the front door gets the point across, and gives your guests a warm hello, with a style that is focused and well blended.
Color, texture and thought- can go a long way to welcome visitors. and hopefully scare away unwelcome door knockers.....
and what about the light ? We all need a little guidance by light
found this lovely light at the same place, and I love the dreamy quality.
Not too bright, after all every house needs some soft romantic light to cover the ravages.
Foscarini - Havana Outdoor Pendant Lamp
Add a piece of garden sculpture - to catch the visitors eye as they come doorside.
like this beauty photographed at Frank Lloyd Wrights Scottsdale residence.
A fountain that has sound and texture, to contrast with the smooth modern look, helps to soothe the most frantic guest. Spray away the rudeness with mellow water sounds. If you are able, choose a floor or paint the cement that compliments all your other elements.
Numbers have value and are part of the package - so take that into account when shopping.
Sometimes your old digits just need a spray of paint.
Found these at
WestOn Letters
Helvetica Italic Bronze Patina, where they have a wide selection for all tastes.
and the trusty little door mat is a must to wipe feet and dust before entering the hallowed hall of home. Did you know that people have written articles about delightful doormats? Not sure if they mean people or shoe mats but I found this one that makes me happy at Grounded modern living: its a
chilewich spun vinyl doormat
Now that the front door is squared away, its time to lie down on the patio furniture with a lovely drink in hand.